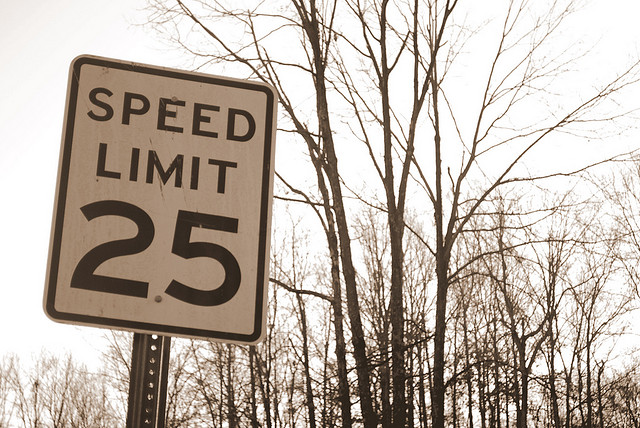 How to Get Out of a Speeding Ticket: Tips from a Lawyer
You can't just ignore a speeding ticket if you get one. The Bureau of Motor Vehicles (BMV) will suspend your Ohio driver's license and the court may issue a bench warrant for your arrest if you do not respond to your ticket. Speeding tickets can add points to your license and can raise your insurance premiums. If you are someone who likes to keep their driving record clean, let a Columbus traffic attorney give you some tips.
Respect. That's right, being respectful to the police officer can help you get out of a speeding ticket. Never underestimate the power of being courteous to everyone involved in this process. If pulled over by a cop for speeding, turn your car off and turn your interior lights on, remove sunglasses or hat, and place your hands at 10 and 2 on the steering wheel. Once the police officer has your information, ask him or her politely if you may speak to her about your violation. If you are respectful to the police, you may have a chance to plead your case and get out of the ticket before it's even written.
Traffic School. Contact the court with jurisdiction over the speeding ticket and ask if they have a ticket safety school available. An Ohio state approved traffic school is a great way to get your traffic ticket dismissed.  Make sure you check with the court to see if you if they allow traffic school and if you are eligible.
Hire an Attorney. If you chose to fight a traffic ticket in court, you may represent yourself or chose to hire a Columbus, Ohio traffic attorney. Hiring a traffic attorney may improve your chances for a favorable decision. If the court rules in your favor, there will be no penalties or fines.
Although speeding is a minor infraction, a driver can get up to 4 points for a speeding ticket. At 6 points, the BMV will send a warning letter, alerting you of your driving record's point total. If you reach 12 points or more, the BMV will suspend your OH driver's license. Additionally, speeding tickets carry with them the possibility of insurance premium increases.
For a relatively small fee, you can have an attorney by your side throughout the entire process. Pricing for minor traffic violations start at $150, and we offer convenient payment plans on most cases. Here are just some of the firm's results with speeding violations:
Slow Speed Dismissed: Charges dismissed upon completion of traffic diversion program and payment of court costs.
Speeding Dismissed: Truck driver keeps job with dismissal of traffic violation for payment of court costs.
Speeding Dismissed: Charges dismissed for payment of court costs.
Speeding Reduced: Speeding ticket reduced to no point non-moving violation of operating vehicle with unsafe condition
Speeding Dismissed: CDL driver avoids points, insurance hikes, and stays employed with the dismissal of this speeding charge.
Attorney Colin Maher is an experienced Columbus, Ohio speeding ticket attorney. He has personally handled thousands of cases. Should you choose to hire The Maher Law Firm, Mr. Maher will keep you fully informed and answer any questions you have along the way. Contact us today for a free consultation.